Advance your career in beauty
All around the world vocational and advanced training are the requirements for improving the personal and professional situation. Without professional advanced training it is not possible to work up-to-date and market-oriented in the long run.

The profession of cosmeticians and beauty therapists is highly diversified and, more importantly, constantly advancing and changing. In recent years the behaviour and expectations of the end consumer have also changed a lot: They are better informed and have an increasing need for good skincare products and a desire for good health. Consumers are no longer interested in empty promises - they want to rely on the competence of a professional skincare expert.
Dr. Schrammek training
Your path to success as an aesthetician!
Our International Academy For Holistic Cosmetics was founded over 30 years ago. The director of the school is Dr. med. Christine Schrammek-Drusio, a trained dermatologist and allergologist.

Over the many years since our inception we have trained thousands of cosmeticians from Germany and abroad. Through our dialogue with cosmeticians we always try to anticipate the newest trends in the area of vocational training, and so our offering of seminars is continually being updated and streamlined to the latest requirements and developments in the market.

Our ongoing collaboration with skin clinics and research institutes guarantees a high level of competence and quality in the course content we offer. We reflect the shared experiences of our cosmeticians from their day-to-day practice. And we?re very happy to share our know-how and experience with you!

To help you further specialise and improve your qualifications we offer a range of up-to-the minute vocational seminars. For each course you successfully complete, you will receive a documentation folder and a certificate.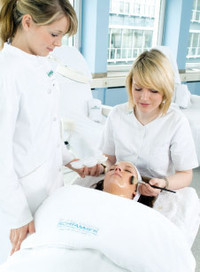 Training schedule 2017 USA West
| | | |
| --- | --- | --- |
| Date | Course Type |  Location |
| November 12 - Sunday | GREEN PEEL® | Riverside, California |
| December 4 - Monday | GREEN PEEL® | Las Vegas, Nevada |
| December 5 - Tuesday | derma.cosmetics | Las Vegas, Nevada |
Training schedule 2017 USA Southwest
Date
Course Type
Location
November 13 - Monday
November 14 - Tuesday
GREEN PEEL®
derma.cosmetics 
Houston, Texas
December 11 - Monday
December 12 - Tuesday
GREEN PEEL®
derma.cosmetics 
Houston, Texas
All classes are from 9:00 a.m. to 5:00 p.m. and will be held in Houston, Texas. Individual in salon  trainings are available on request.
Registration and payment for classes must be made to Biokosmetik of Texas, Inc. Please call 1-800-729-1242 for registration.
Training schedule 2017 USA Midwest
| | | |
| --- | --- | --- |
| Date  | Course Type  | Location |
| November 30 - Thursday | GREEN PEEL® | La Grange, Illinois |
| December 4 - Monday  | derma.cosmetics | Livonia, Michigan |
All seminars are scheduled from 10:00am-5:00pm and the knowledge classes are from 10:00am-1:00pm.
Training schedule 2017 USA Southeast
Date
Course Type
Location
November 5 - Sunday
November 6 - Monday
derma.cosmetics
GREEN PEEL®
Orangeburg, South Carolina
To request your registration package, please call us at 1-800-826-1193